Patented headstrap buckle to adjust length of headstrap for various facial sizes.

No metal used. Avoid the contact between skin and metal and suitable for




those environments where metal is not allowed.

Cool latex-free textile braided headstrap for comfortable wearing.

Continuous loop headstrap design can allow to hang the mask around the




neck when not in use.

Polypropylene (P.P.) inner layer provides the most intimate touch to your face.

Pre-shaped nose cushion and soft closed-cell nose foam ensure custom shape




and increase the worker comfort and acceptance.

Embossed fringe seal avoids fluffy open layer around the edges.

Contour design ensures the compatibility of glasses/goggles and reduces fogging.

At least 95%

filtration efficiency against certain non-oil based particles
Product pictures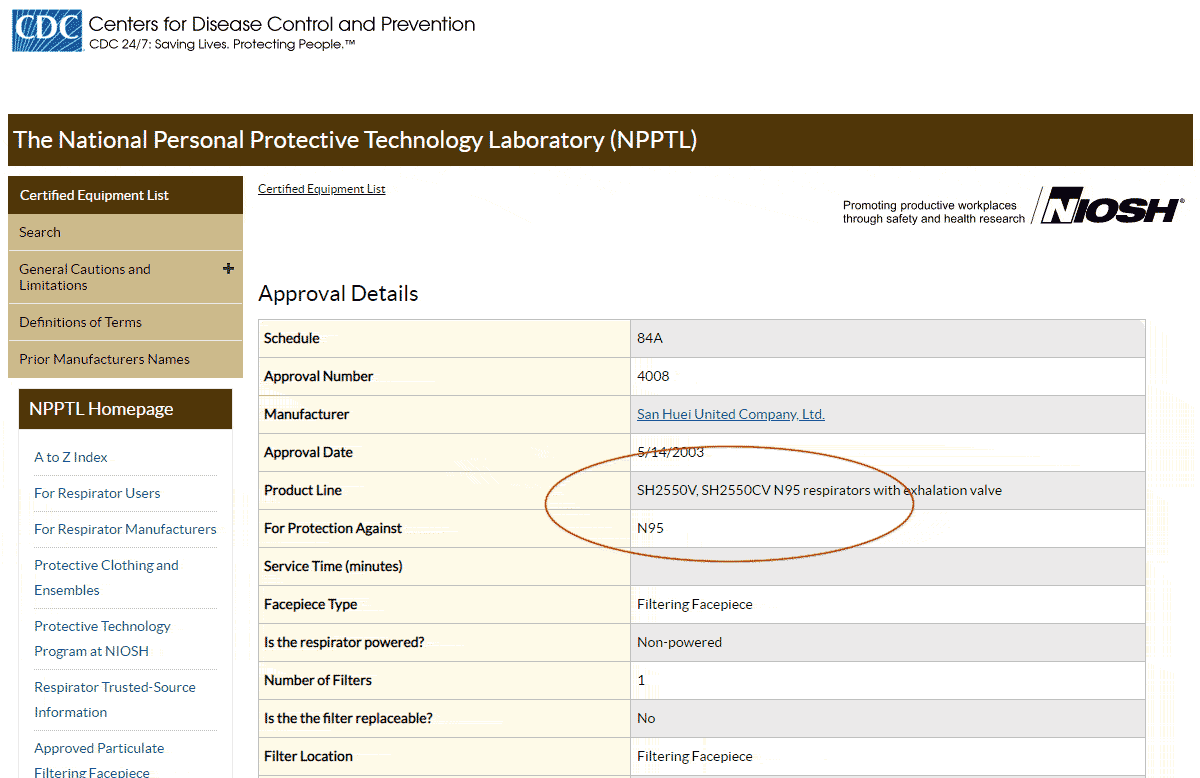 Package: ship w. original box
item include 1box of 10pcs N95 mask
Made in Taiwan . manufacture date:2020 Quality guarantee period: 3 years
Cautions and Limitations
A- Do not use in atmospheres containing less than 19.5% oxygen.
B. Do not use in atmospheres dangerous to life or health.
C- Do not exceed maximum use concentrations established by regulatory standards.
J- Failure from properly use and maintain this product could result in injury or death.
M- All approved respirators shall be selected, fitted, used, and maintained in accordance with MSHA OSHA and other applicable regulations.
N- Never substitute, modify, add, or omit parts. Use only exact specified by the manufacturer.
O- Refer to users instructions and/or maintenance manuals for information on use and maintenance of these respirators.
P- NIOSH does not evaluate for use as surgical masks.
SH2550V CDC NIOSH N95 certificate
SH2550V CDC NIOSH Approval list
Certificate label of this item
| | |
| --- | --- |
| NIOSH N95 | Approved for CDC medical usage, passed the NIOSH NPPTL N95 Particulate Filtering test |
| LA & KN95 | Approved for usage in China, passed the China KN95 95% Particulate Filtering test |